Reflections and top tips for online meetings with patient and public representatives
Jenny Hasenfuss, PPIE Lead
jenny.hasenfuss@ncl.ac.uk
The current global situation has prompted most of us to embrace different ways of doing things and our Patient and Public Research Panel is no exception, holding its first online meeting on 26 March, early in the UK's lockdown period. We used Zoom's free-to-use platform and for many of our members it was the first time they'd ever joined a virtual meeting. Afterwards I asked everyone for feedback so we could all reflect on what we've learnt so far and plan for the future too.
Be courteous and take turns: Just as in face-to-face meetings it's very important that all participants get the opportunity to speak and be heard and respected.
Mute/unmute: It's a good idea to 'mute' yourself (by pressing the microphone symbol) when you're not speaking. Otherwise small noises (coughs/rustling of paper) are picked up and in Zoom the screen will switch to you. Remember to unmute yourself though when you do want to speak!
Chat function: This function in Zoom is accessed by clicking on the chat icon that looks like a speech bubble. It's especially useful for sending typed messages to participants if you have audio or video problems once the meeting is underway. You can message either everyone or specific participants only and it's a good idea for the Chair to read these out so all the group can stay up to date with the discussions.
Time to adapt: Videoconferencing is a learning curve for most of us, so stick with it! Encourage the Chair to circulate notes and ask for the chance to add comments via email after the meeting so everyone is kept up to date.
Bumps in the road: Technical hitches are almost inevitable (e.g. fuzzy audio or frozen screens) and, although frustrating, are part and parcel of this way of connecting with others. Be ready to ask for a recap and have a pen and paper handy to show a message to the other participants when the technology struggles.
Top tips for meeting organiser/Chair:
Guidance: Give clear guidance to attendees on what they need to access the videoconference, including if they will need to download any software, what equipment they will need (e.g. camera on laptop/tablet etc.) and logical instructions.
Pre-meeting test: Consider a 'trial run' of the software before the meeting so everyone can become familiar with how it works, e.g. Zoom has a handy webpage where you can join a 'test meeting'. Some of the online systems are easier to use than it might first appear, e.g. Zoom invites tend to have a lots of links, phone numbers, etc. but typically it's only the 'join meeting' you need to click on.
Functionality and technology: Remember that not all functions will work on every device. For example, we found out that although you can change backgrounds within Zoom this function is not possible on all devices. Some meeting platforms have 'shortcut' keys (e.g. space bar in Zoom for adjusting the microphone) but this didn't work consistently for everyone.
Security: Set a meeting password to ensure that the meeting is accessible only to those people you want to participate.
Agenda/running order/meeting papers in advance: Just as with face to face meetings, sharing the meeting purpose and content in advance allows people to prepare and makes discussions more effective.
Timing: Make sure there's plenty of time for discussion. Participating in a videoconference requires a lot of concentration and tech problems can impede understanding and the flow of discussion. Consider scheduling several shorter sessions to discuss different items rather than overloading a single meeting.
Attendees: Circulate a list of attendees to make the discussion easier to follow. If people don't know each other, plan time for introductions at the start.
Visual aids: Ask participants to raise a hand or use meeting functions (e.g. handwave in Zoom) to signal to the Chair when they want to contribute. This is particularly helpful in a large group.
Technology: In our meeting it was actually my audio (as Chair) that was occasionally intermittent. Using some old-fashioned hand signals (e.g. thumbs up and thumbs down) helped to acknowledge what was happening. However, trying to fix any problems seemed to be a question patience and waiting whilst the signal strength improved. Always have paper and pen ready in case you need to hold up a message in the old fashioned way!
Technical glitches and hitches aside, the overwhelming feedback from all our panel members was extremely positive, as summed up perfectly by one participant: "the videoconference went remarkably well, given that most of us were novices". It's certainly good to hear positive thoughts in these difficult times.
Since writing our reflections a number of helpful blogs and resources have been shared. In particular the blog produced by the NIHR Research Design Service teams across England called 'Public involvement during a pandemic: how we are supporting researchers' has lots of tips and resources on how to manage remote public involvement and important help around governance and online safety.
Looking ahead…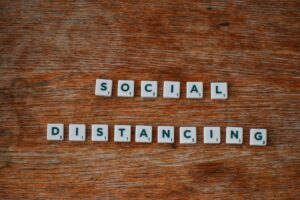 With face to face meetings unlikely to take place for the foreseeable future, within the BTRU we need to think about the best ways to communicate with our panel members during the current pandemic and if the methods ought to vary depending on what we are trying to achieve. How productive are online meetings in very large groups? How effective are they among people who don't know each other very well? Who are we excluding by running online meetings? For example one of our panel members really enjoys the face to face meetings, the chance to chat informally over a cup of coffee and the social interaction that brings. This social connection is likely important for many of us and we are conscious that such informality can be very hard to replicate online.
In what other ways could we keep in touch (teleconferences? email? online discussion forums?) and what are the benefits and challenges of those? What are the practical, financial, ethical and cultural implications of online meetings?
Going forward we also want to consider how the face to face public engagement activities that we have previously done within the BTRU might be adapted in these different times. We're keen to explore the potential that online technology offers for public engagement now and going forward and would love to hear any ideas on how we can learn from others to plan for the future.
Please do get in touch if you have any ideas or suggestions about working online or if you would like to know more about our Public and Patient Research Panel. New members and new ideas are always very welcome!