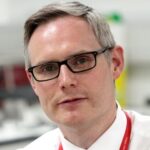 Reviving and reconditioning donor hearts and lungs outside the body before transplantation
For some people with very severe heart or lung disease, heart or lung transplantation can offer the chance of life-saving treatment. Unfortunately, the number of people who are suitable for a transplant and are on the heart or lung transplant waiting list greatly exceeds the number of donor organs available for transplantation.
In Theme 3 we aim to investigate new approaches to increase the number of hearts or lungs suitable for transplantation by allowing more of those organs that are initially felt to be unsuitable to be more carefully assessed by the medical team.
We aim to assess these hearts and lungs by using specialised machines that perform a technique called ex vivo normothermic perfusion (EVNP). This technique mimics the normal function of the heart or lungs outside the body of the donor but before they are transplanted into the patient to allow them to be more carefully assessed.
In addition to assessing these organs, we are hoping to find new ways to treat the donor organs outside the body to improve their performance. EVNP provides an opportunity to administer beneficial medicines and treatments such as antibiotics and anti-inflammatory drugs to the hearts or lungs with the aim of improving their condition.
Our research will investigate ways in which we can deliver new therapies to the hearts or lungs whilst they are on the EVNP circuit, including medications targeting the heart muscle and the blood vessels within the lungs, and we will also test regenerative therapies such as stem cell therapies.