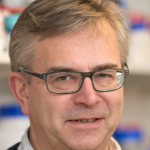 Investigating cellular biology during storage of donated organs
In transplanting an organ such as a heart or kidney we need to store the organ for a few hours, usually on ice, in order to keep it in as good a condition as possible between moving it from the donor to the recipient; however, the time we can store organs is limited. We want to understand  what happens to organs during storage that limits their 'shelf life' and then to design ways of extending storage times and minimising damage during storage so the organs work better in the recipient.
Our laboratories have found that the way the cells in the organs use energy during storage affects how long we can store them for and also how well they function in their new host. In particular, we found that the action of parts of the cell called 'mitochondria' are critical. Mitochondria are the powerhouses of the cell. They are central to using the oxygen we breathe to break down food to provide energy for the cell to work. We have found that during storage mitochondria work differently and this leads to the build-up of potentially damaging molecules in the organs. We are now trying to design new types of drugs that will decrease this accumulation of damaging molecules and thereby improve how well the transplanted organs work in their new host.