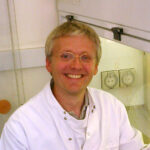 Treating isolated donor organs with drugs or therapies before transplantation
In this theme we are focusing on evaluating the potential to deliver therapies or treatments to improve the function of donor organs whilst they are outside the body. The use of machine perfusion technology, where we pass blood-like fluids through the blood vessels of an isolated organ by mechanical means, provides a unique opportunity to treat the organ with drugs that might not be appropriate for use throughout the entire body.
We have already had early success in a number of areas. Firstly, we have treated donor organs by introducing molecules of nucleic acid to the perfusion circuit. We have shown that these molecules can readily enter cells within the donor organ, where they act to reduce the damaging effects that are caused when the blood supply to an organ is restricted, which happens during organ donation. Secondly, we are developing a new treatment to reduce the leakage of blood from blood vessels that can become damaged during transplantation. In this work we have already demonstrated that the fluid used for organ perfusion is deficient in a natural factor that normally maintains healthy blood vessels. The functions of this factor can be restored in the perfusion fluid by the addition of a range of modern drugs. A mixture of these drugs is now being optimised to maximise the potential to repair damaged blood vessels during the perfusion process.
The work programme in this theme has already demonstrated the potential to revive donor organs in order to maximise the number of organs available for transplantation. We eagerly anticipate increasing the scope of the investigation of new treatments and therapies as our work continues.