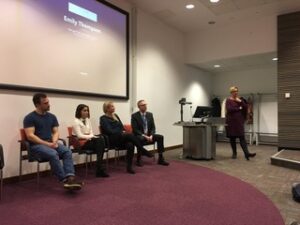 Building on the success of our previous awareness-raising event in Newcastle, in February 2018 the Institute of Transplantation at Freeman Hospital once again hosted an event for patients and members of the public, this time to showcase research in organ donation and transplantation.
The event comprised a brief panel presentation for each of the five solid organs routinely transplanted at the Institute of Transplantation – heart, lungs, liver, kidney and pancreas – followed by an open forum. Speakers were drawn from a broad range of disciplines and with varying experience and expertise to showcase current and future research within our BTRU. Panel members included consultant surgeons and physicians, laboratory scientists, academic researchers, junior clinicians and researchers, patients, carers and representatives from patient groups. Presentations were deliberately brief in order to maximise the opportunities for comments, questions and discussion.
The event was very well attended, with delegates from across the region as far as Northumbria and West Yorkshire. As well as taking an active part in the discussions, we are delighted that a number of delegates have either volunteered to join our Patient and Public Research Panel or have provided contact details in order to receive regular updates on future events and research undertaken across the various research themes. Feedback so far has been extremely positive and encouraging, and includes some good ideas that will be taken into consideration when planning future events.