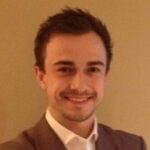 I graduated from the University of Leeds with a BSc in Biological Sciences in 2016, which included an industrial placement spent working within an immunology-based pharmaceutical company. This developed my interest in immunological cell signalling pathways and how these may influence in vivo disease pathology and treatment. All of this led me to pursue a career within scientific research and apply for an NIHR-sponsored PhD working within the BTRU.
I am based in the Institute of Cellular Medicine, Newcastle University, under the supervision of Professor Andrew Fisher and Professor Simi Ali. My primary area of research concerns ex vivo organ perfusion, a technique that is presently being developed to recondition organs in an effort to expand the transplantation donor pool. Previous work has shown that significant changes in cytokine level and endothelial surface expression can occur over the course of perfusion within the lung, which in turn correlates with clinical outcomes.
My project is based around not only expanding this research into other organs, such as the kidney and liver, but also elucidating more information on how these changes may influence interaction of the endothelial layers and leukocytes present within the organ.