Resuscitating and reconditioning thoracic organs ex vivo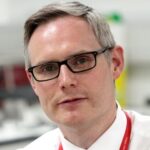 Led by Professor Andrew Fisher, our research is centred on ex vivo normothermic perfusion of donor lungs and hearts.  Our principal aim is to develop EVNP as a technique that improves the availability and quality of donor thoracic organs for transplantation and to evaluate ex vivo perfusion as a therapeutic platform to treat donor organs prior to transplantation.
Theme members
Theme Lead: Professor Andrew Fisher
Senior Investigators: Professsor John Dark, Professor Steve Clark, Professor Simi Ali, Dr Guy MacGowan
Senior Research Associate: Dr William Scott III
Clinical Research Fellows: Dr Morvern Morrison, Mr Anders Andreasson
Research Technician: Ms Lucy Bates
PhD Student: Tom Pither
Collaborations within the BTRU
Theme 4: We are working with Professor Mike Nicholson and colleagues in kidney perfusion to evaluate biomarkers of endothelial activation in their samples and to develop models that allow us to test potential therapies.
Theme 7: We are working with Professor Menna Clatworthy and colleagues to evaluate markers of perfusion success and predictors of clinical outcomes in ex vivo lung perfusion.
Theme 8: We have evaluated the value of assessment of mitochondrial histochemical analysis in lung tissue in partnership with Professor Rob Taylor.
Collaborations outside the BTRU
Professor Stig Steen – Ingelosa Research Institute, Sweden
Dr James Fildes – University of Manchester
Dr Kev Dhaliwell – MRC Centre for Inflammation Research, University of Edinburgh
Collaborations with industry
MyCartis: we are working with a specialist medical technology SME company to develop and clinically test a rapid cytokine analysis system in organ perfusion samples.
Patient impact
We have shared the results of our work at patient engagement events.
Other external funding
Publications
1. Andreasson ASI, Karamanou DM, Gillespie CS, Ozalp F, Butt T, Hill P et al. Profiling inflammation and tissue injury markers in perfusate and bronchoalveolar lavage fluid during human ex vivo lung perfusion. Eur J Cardiothorac Surg. 2016 PubMed 28082471