Resuscitating and reconditioning kidneys ex vivo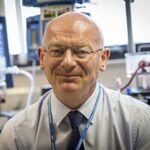 Led by Professor Mike Nicholson, our research is centred on ex vivo normothermic perfusion (EVNP). Our principal aim is to develop EVNP as a technique that improves early renal transplant function and also as a quality assessment tool for marginal kidneys. We are also using EVNP to improve understanding of renal ischaemia reperfusion injury and to find novel treatments for acute kidney injury.
Theme members
Theme Lead: Professor Michael Nicholson
Senior Research Associate: Dr Sarah Hosgood
Mr Kourosh Saeb-Parsy
Mr Colin Wilson
Dr Tom Adams
Mr Tom Moore
Collaboration with Yale University
We are working with Professor Jordan Pober at Yale to introduce nanoparticles targeting the endothelium into discarded human kidneys. The long-term aim is to enable drug delivery to the isolated kidney prior to transplantation.
Collaborations within the BTRU
Theme 7: With Professor Menna Clatworthy's group, we are characterizing the passenger leukocyte population in human kidneys with the long-term aim of decreasing graft immunogenicity.
Theme 8: Kourosh Saeb-Parsy is working closely with Mike Murphy's group to develop biomarkers of mitochondrial injury and also to test novel mitochondrial targeted anti-oxidant therapies for ischaemia reperfusion injury.
Collaborations with industry
Working with two international pharmaceutical companies, A1M Pharma based in Sweden and Faraday based in Seattle, we are investigating the delivery of novel drug therapies during EVNP with the hope of ameliorating ischaemia reperfusion injury.
Patient impact
The EVNP technology can be used to improve the quality of the kidneys for transplantation. It has also allowed us to assess and transplant three kidneys that had been rejected for transplantation by all UK transplant centres.
Other external funding
The Evelyn Trust
Kidney Research UK
Stoneygate Trust
Publications
1. Hosgood SA, Saeb-Parsy K, Hamed MO, Nicholson ML. Successful Transplantation of Human Kidneys Deemed Untransplantable but Resuscitated by Ex Vivo Normothermic Machine Perfusion. Am J Transplant. 2016 Nov; 16(11): 3282–3285 PubMed 27273794
2. Hosgood SA, Nicholson ML. An Assessment of Urinary Biomarkers in a Series of Declined Human Kidneys Measured During ex-vivo Normothermic Kidney Perfusion. Transplantation. 2016 Sep 27 PubMed 27681269